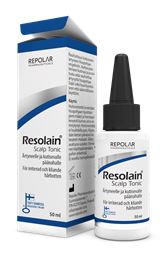 Resolain® Scalp Tonic
A calming resin-based tonic that treats irritated and itchy scalp
Helps to relief itching and redness that can be caused by a multitude of factors
Can be used as needed on a daily basis
The tonic is dispensed by applying a small amount to the scalp with the of the tapered nozzle
Suitable for all hair types
Does not make hair greasy
CE marked medical self-care product
Package sizes, storage and shelf life
50 ml bottle. Nose cap for easy application.
Store the product in a clean place at room temperature.
Shelf life in room temperature unopened 2 years and opened 12 months.
Ingredients
Aqua, Propanediol, Alcohol denat, Picea abies resin extract, Allantoin, Panthenol, Carrageenan, Potassium sorbate, Polysorbate 20 Citric acid, Sodium chloride
NOTE: Contains no perfumes, colors, parabens, silicon, mineral oils or animal-based ingredients.
pH 5.0-6.0
How to use
Dispense a small amount of the tonic to the scalp with the help of the tapered nozzle and then massaged in until it's absorbed. Do not rinse. Apply solution once or twice daily after washing the hair or between the washes.
Can be used daily or as needed.